This post and the photos within it may contain affiliate links. If you purchase something through the link, I may receive a commission at no extra charge to you.
January 2019 Daily #Challenge Day 11-20
Well, it hasn't been daily for me, yet….still.
I have put lots of thought into them daily, well some of the days prompts more than others. But getting the dang things edited & published once a day may FOREVER elude me.
#Challenge Day 11
–
Picture story summer 2018 Fort Lauderdale, Florida
I combined with a playlist that I feel best describe this week of my life. Because, honestly if I gave you a playlist from 2018 – the whole year you wouldn't know whether you want to:
#1 Institutionalize yourself
#2 Become an alcoholic
#3 Run away
#4 Have a good old fashion dance party or
#4 Shout to the Lord singing praises
To save grace I'll just keep to a really terrific 7 days in an amazing place, with great people, having a time of our life. Each picture has a song listed in the caption, one of them may have two. I have yet to figure out how to link music to my blog, let alone figure out if it's even legal. But, I promise this playlist won't disappoint!
#Challenge Day 12
– Is a list of must have as a blogger….
Help from fellow bloggers has been my saving grace. I know that I have plugins that I love that makes my blog operate the way it should, but I wouldn't have a clue which do what really….(still learning the tech stuff), the apps for all my social media save me, I think if I dive into learning, setting up and using Tailwinds, I will love it. Plugins – Updraft, Wordfence, Social Media Shares, and many, many more!!!! Good luck on the learning, maybe one day I will be able to give info, or advice on this matter. Till then let's learn together feel free to drop your favorites in the comments, please & thank you!
#Challenge Day 13
– Winter Poem
Haven't taking time to look up a poem to share about winter and not really feeling very poetic. But here ya go…
Everything needs winter to rest, recoup, and regenerate.
Springing out of the dead, dry and dormant season,
To be full of life again in the summer for a bountiful harvest.
Winter sucks. Only great thing in my backyard right now is, that without the leaves I can actually see my cardinal couples better.
#

Challenge Day 14 – What I am most proud of in my life right now? Becoming Debt Free!!!! Emotionally, Relationships, Spiritually, and Financially! It's amazing what we can do when we decide to not carry a load & burden anymore.
#Challenge Day 15
– Family Recipe Favorite
My Aunt Neat, much like my momma, got their kitchens skills quite honestly from their momma. Not sure just how far this recipe goes back, but in know my Aunt Neat fixed it several times a year for different functions after my "Mommie" passed. It is one of my family's favorites and if you like coconut; it will probably become one of yours. Not only does it weigh 5lbs, but it takes almost that much sugar to make, so no New Year dieting if your trying this one. It does come with a fork full of love and deliciousness in every bite, though.
I know that the recipe may be a little hard to read, but it has been be used so much I thought that it might need to be shown as we see it. Made with love & mess.
#Challenge Day 16 –
A "Thank You" to myself – Hummm…..
I am so grateful that I decided to loose weight & get in better shape. The energy and strength I have gained from doing yoga, eating healthier, light work outs and intermittent fasting are changing my habits. Glad I took time to take care of my mom, so when the time came to say see you later for now, there wasn't guilt or remorse. Thank you for being brave enough to take the first solo travel journey to a foreign country. I will be eternally grateful for that trip and pray that it is only the beginning of many more. This year was a 1st for many things, I am blessed to have lived it, learned from it and can grow from it. Let's see what all I can do this year that I can "thank me" for next year.
#Challenge Day 17 – Favorite Playlist
Download it, put your earbuds in and get busy! Or bluetooth to a really great speaker and turn it up loud!!!!
Finesse (feat. CardiB) – Bruno Mars
Uptown Funk – Bruno Mars
24K Magic – Bruno Mars

Wanna Be a Baller –

Lil Troy

For You – Liam Payne & Rita Ora

Strip That Down – Liam Payne (feat. Quavo)
Get Low – Zedd & Liam Payne
Anywhere – Rita Ora

Get Lucky – Daft Punk (Pharrell)

Hotter Than Hell – Dua Lipa

Beyond – Leon Bridges & Luke Combs
Oceans – Hillsong (if YouTubing – Israel Tour 2017)
Broken Vessels – Hillsong (if YouTubing – Israel Tour 2017)
Hosanna – Hillsong (if YouTubing – Israel Tour 2017)

I Gotta Feeling – BEP

Elements

– Lindsey Stirling
Crystallize – Lindsey Stirling
Shatter Me(feat. Lzzy Hale) – Lindsey Stirling

Side Effects –

The Chainsmokers (Emily Warren)

Sweet Nothing –

Calvin Harris (Florence Welcher)
This is What You Came Here For

–

Calvin Harris (feat. Rihanna)

Take Your Time –

Sam Hunt

T Shirt –

Thomas Rhett
Make Me Wanna

–

Thomas Rhett
Craving You

–

Thomas Rhett

Tell Me That You Love Me –

Demi Lovato

Japan –

Shawn Mendes
There's Nothing Holding Me Back –

Shawn Mendes

Time of Our Lives –

Pitbull & Ne-Yo
Tonight Looks Good on You – Jason Aldean
You Make It Easy – Jason Aldean
Don't You Wanna Stay – Jason Aldean
No guarantee that any of you will like any of these, but they make me happy & they make me dance (unfortunately for others,,,sing)LOL! I have many, many more….but I thought I'd keep it under two hours or so playtime. This playlist, eating clean & yoga are what changed my weight and health.
#Challenge Day 18
– Blog Buddies
The women whom I find myself exchanging post, ideas pictures, comments, follows and likes truly intrigue me. I just can't wrap my mind around how I've gotten do lucky to find myself filtering into this strong community of bloggers. I continue to be amazed by their commitment to content, sowing into others to help with issues, give feedback and praise. There are many more of them than I will be able to include on this post for their inspiration and great stories that they have posted already in this short time period of 2019, but I'm going to dump a few of my girlfriends links and let jump over there and check out all their good vibes, tips for new year success, great new recipes, and stories that will bless you.
Lana Pummill – Finding Inspiration in the Chaos – Is a sweet southern wife & mom of boys. She has a gently flow that never lets you know there is any chaos. She blends her love of the the Lord and people together effortlessly.
Suzy Oakley – Suzy Oakley.com – I've personally known Suzy llloooonnnnggg before blogging was even a thing. This lady right here was the very first person to welcome me to the blogger world with open arms and start adding me to groups. She has always been a Godly woman with integrity. When we first met I was peddling pink boxes and she became a part of my life in that arena for several years. Life happened and directions shifted. Careers changed, but Suzy has always been a great writer/editor. She is a top notch person and has always blessed me with her friendship. I treasure her being in my corner.
Suzy has blogged for over 10 years. She has recently transformed 2 or 3 separately maintained sites into one under her name. You can find great info on finances, wellness and journey through her struggles of living an excellent christian based life with and atheist spouse. To say the least she truly inspires me. Her husband & her have both have had life threatening battles with health problems – she is a force to be reckoned with and a heart bigger than Arkansas.
Sheila Goodwin Yale – Empty Next Lifestyle – Sheila is one of the first bloggers that piped up, well reached out with likes, comments, and follows when I started this blogger path. She has been a great connection with whom I have a kindred spirit and very similar walk in life. She slings pottery clay where as I'm splashing paint or pouring wax. We are now both "empty nesting", I hope we are able to have our paths cross in person one day.
Jennie Anne Carfora – Failure to Thrive No More – Jennie is a beautiful high spirited,
military spouse, and mom of boys. She likes cute hair cuts and wears a smile most anytime I see a picture. Being a mom of a child having health issues gives her plenty of reasons to not thrive all the time, but she fools everyone with the great post, insta pics and supports she shows her fellow bloggers. A true bouquet of fun waiting to blossom with each read.
I ask that you take time out to click on theirs sites. See if they resonate with you and if the find a fit with things that might reach in and pull at your heart strings, push your button of encouragement and inspire your soul. Subscribe and let them take you into their life to share in their journeys.
#Challenge Day 19 – What you need for starting at home Yoga practice:
(Well, a list of "my" must haves)
WiFi

TV / Computer / Phone – Any device you can get YouTube (My personal favorite is Yoga with Adriene)

Yoga Mat

Proper clothing helps (shorts, pjs or sweats if not)

Hand Towel

Belt

Throw pillow

Blanket
If you need to become familiar with pose or breathing she has a video for each one, watch them if it gives you more confidence.
Best advice is find 3 or 4 Beginner Yoga vlogs and do them everyday / every other day at least for the first month. Yes, I use the same 3 over & over for the first month or so. I also have favorites that I go back to even after a year I go back to some of the same ones once or twice a month. I LOVE the one for feet!!!!!
#Challenge Day 20 A Good Laugh
New Years Eve was a night that had tons of laughs, tasty snacks, bubbly drinks, good friends & great times. We laughed so hard playing charades (that was almost rated "R"). It was just what I needed to see how much fun 2019 was going to be!
Looks like my magic number may just be 10! 10 days at a time is as manageable as I can get it down, too…..
#Challenge – Gettin it done!
Trina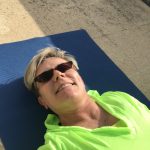 #Challenge January 2019 Day 1-10 is where this began!