I want to show you how to make a charcuterie board that is easy, cheap and beautiful. This is going to keep charcuterie simple enough that anyone can make one. Perfect ideas from Dollar Tree or Walmart. Items that can make your charcuterie style flexible for a variety of locations and all kinds of occasions.
What Occasion Is Calling For Me to Make a Charcuterie Board That's Easy, Cheap and Beautiful this time?
A weekend on the lake with friends was calling for a great, grazeable board. When we are on the lake we stay on our friends houseboat. Making things that are easy to eat and clean up are necessary.
We still love for things to look great. We prefer not to have to haul to and from the boat. It is much better if it is not breakable, too. Therefore I started racking my brain about how to accomplish all of the above – cheap, easy and beautiful.

Items to Make the Actual Charcuterie Board:
Platter or Baking Sheet Pan
Roll of Brown Craft Shipping Paper / Parchment / Butcher Paper
Tape
Scissors
Small Bowls
Assembling a DIY Charcuterie Board – Easy and Cheap
I'm going the route of using the baking sheet pans, because I did not have to purchase them. They were already on the houseboat. If you decide to use the baking sheet pans; you will definitely want to purchase one of the items in the list above to cover them with. They will give your pans a cohesive look. This is great especially if they should not all match or have become worn over time.
Brown craft wrapping paper is a "go to" for a lot of things that I do. I try to keep a roll on hand at all times. It is one of those items that you never know when you will need it. Brown craft wrapping/shipping paper is sturdy and holds up well when used for things like this.
If you want a clean aesthetic look you may want to go with the white butcher paper. I just like that the brown makes you feel like you are looking at an actual cutting board.
Which Is My Preference for Making a Charcuterie Board?
A cutting board is always perfect to use if available. It is my preference for a cheese and meat display. If one is not available or maybe it is just too small for the amount you will be serving then the above method should work great.
When we are traveling and staying at AirBnB's, the above method has served us well, besides using it at the lake. There are usually baking sheets, but rarely a nice, heavy, wood cutting board to entertain from.
We did however have one in our condo in Fort Morgan, Alabama. I'm popping in a picture of how it turned out even though we aren't talking using an everyday, just general wood cutting / grazing board.
Should You Use Small Serving Dishes When You Make a Charcuterie Board?
Using small serving dishes or bowls on your delicious charcuterie board will depend on what items you decide to put on it. Things such as jams, relish items, some fruits and certain condiments will need to be kept separate. This will keep the cheese, meat and crackers from becoming yucky.
Now how fancy or NOT you go is all going to depend one the crowd you are serving. This particular board I used small red glass bowls that I picked up at the Dollar Tree. If i had not had them I would have used clear small plastic punch cups.
I just would steer clear of using anything that is very tall/deep or takes up too much space. One of my favorites that I have used before is tea cups. Mixing and matching is something that I often do, too.
Back to Building the Deliciousness of a Charcuterie That's Cheap, Easy & Beautiful
I want to make a list of basic elements, then we will break those lists into detailed items.
Cheese
Meat
Condiments
Fruit & Veggies
Nuts
Relish Items
Your Vehicle
Charcuterie Boards – A Little or A Lot???
You will always make your DIY boards based on your individual preferences. Who will you be serving it to? How many will you have there to be grazing on it?
I see many people only like 3 – 4 types of cheese or meat on their charcuterie boards. We love a variety. If I am making it for just 2 – 4 people then these amounts are perfect, but if I'm fixing it for 6 or more then it will have a minimum of 4 types of cheese and 2 – 4 types of meat. The other items are solely based on place, people and often what's in the pantry!
Let's Cut the Cheese! (No, I'm not talking about that kind…)
Keeping cost down, offering a variety and making a nice display can be done by purchasing everyday blocks of cheese. There are many types to choose from.
Example: Colby Jack, Mozzarella, Cheddar – Mild, Medium or White, Smoked, and Pepper Jack to name a few.
They can be sliced thin, thick, long or short. We even cut a few into blocks. If time is a factor over cost you can buy bags of pre cut blocks. You can even get a larger variety from the deli pre-sliced at exact thickness.
Now, we can't forget that you will want a variation of textures of cheese also:
A regular cheese that can be sliced or cubed.
One or two soft cheeses.
One hard type, at least.
Where's the Beef?
Well, there is not really any beef on this board. Yes, that is an old throw back to the 80's from a fast food commercial in the USA. This board is dominated by pork…of a wide variety.
Summer sausage
Canadian Bacon
Prosciutto
Salami
Pepperoni (might possibly have had a little beef in it)
Roast Beef
Turkey
Chicken
Feel free to change this up in any way you wish. Many times our summer sausage quite possibly might just be venison. There are boards that I have used thinly sliced turkey and roast beef. You know in the deli packs or they can slice it the consistency that you like at the deli if you prefer.
Which Condiments to Use?
This is completely up to every individual's taste. My board's usually have a spicy mustard, jam of some sort, and possibly honey. There are many items that you can use along with these or in place of any of them.
Variety of Fruits and Vegetables for Taste, Texture and Looks
I believe that I will just list the items that I have used for this particular board; then I will add items that I have used on other boards. I used both dried and fresh.
Granny Smith Apples (I usually soak ahead of time in pineapple juice)
Berry Variety: Blueberries, Blackberries and Raspberries
(love these, but they don't hold up as well)
Grape Tomatoes
Grapes
Strawberries
Apples: Pink Lady/HoneyCrisp
Pineapple
Pomegarantants
Melon
Cucumber
Mini Carrots
Celery
Dates
Dried Fruits – Any variety goes well, but my favorite would be Apricots.
Shall We Pick Our Nuts?
So, so, so many to choose from… I try to pick some that are healthier than just your average peanut. Many times I will just use mixed nuts and flavor them up. Plain works just fine, too. I used pistachos for this Redneck charcuterie meat and cheese board on the boat. In the picture of the vaycay board up at the top; I doctored up a can of mixed nuts that turned out a delish hot and spicy mix.
Relish Items Is Another Delicious Way to Make a Charcuterie Board Pop!
Thinking out about the flavors that you want to accent or pair with your cheese and meat on your board. This can help you decide about exactly which way you want to go with your relish items. Sweet, spicy, or sour are generally the ones that make my displays.
Olives – Variety (I usually have two – three types.)
Pickles – You pick! I use baby pickles or cut them smaller in chunks.
Pickled Okra
Peppers – Tame Jalapenos, Peppercino's and cherry peppers
These relish items can be completely left off and truly never be missed. Although, I feel olive's are almost necessary. They just seem to transition flavors between the meat and cheese for the perfect bite.
Last Real Must To Make a Charcuterie Board Complete: "A Vehicle"
A vehicle to deliver your savory/sweet bite of cheese, meat or dip is very important. Variety is key for me. You may just want one or two types.
My board always has at least 2-3 different crackers, bread sticks, miniature bread slices, or pita chips. Truly though, I generally buy a box of variety party crackers and have 4-5 types.
Bread is the one that I leave off when I have to make a choice, unless there is a specific item on the board that requires such a vessel.
This is all about personal preference. Who you are actually making it for, and the occasion it is centered around.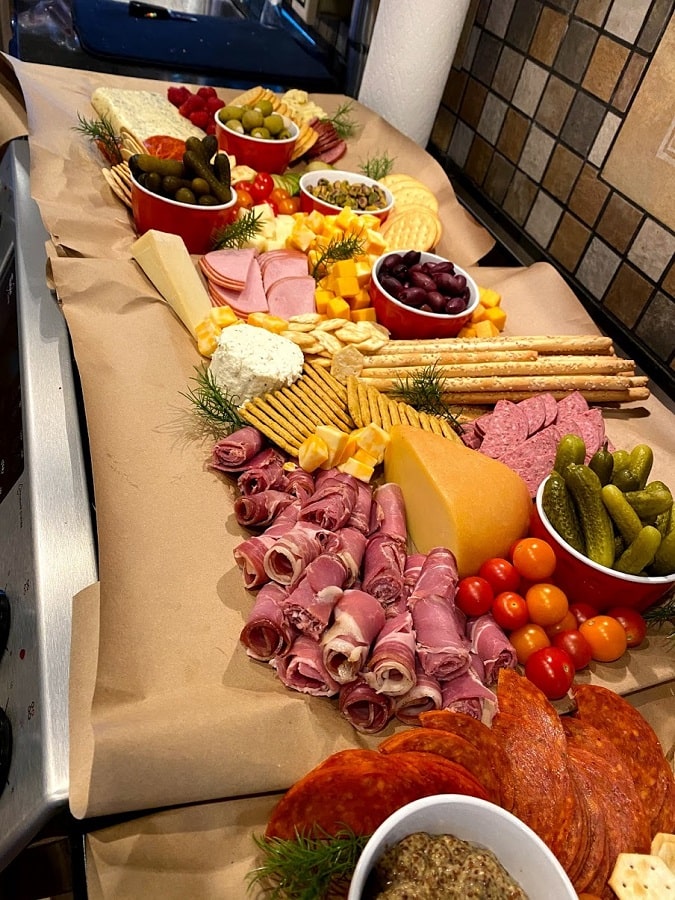 When You Make a Charcuterie Board: What About Garnishes?
I have made beautiful boards without any garnishes at all. The one that is featured in this post actually has faux dill on it. I left my fresh rosemary laying at the house… The garnishes I usually use are ones that I grow.
Fresh herbs are my main go to, followed by edible flowers. Herbs tend to hold up better if it will be left out longer. You can use flowers and diaper them if you are concerned that they will wilt from lack of water. These are a few of my go to's:
Rosemary
Lavender
Parsley
Dill
Roses
Daylily
Orchids
What Is the Beverage of Choice to Accompany a Grazing Board?
The drink I prefer to drink or serve with our charcuterie / grazing board? That would be wine. If it's my choice for myself, a very unsophisticated, simple, rather cheap wine. I tend to prefer wine's that are to the sweet side. White Zinfandel, Riesling, or Moscato are the main go to's that are in my fridge.
That should say a lot. All of the wine's that I like are ones that are much better chilled. I am so bad that you will most likely find a piece or two of ice in my wine glass.
Wayne usually picks a cabernet sauvignon, merlot, or shiraz. If we are entertaining I add a white wine for those who prefer it. A sauvignon blanc, chardonnay, or pinot grigio would all be ones which I would pick from.
Anyone Can Make a Cheap, Easy and Beautiful Charcuterie Board Now!
With the above list and ideas, I believe anyone can make a charcuterie board. Charcuteries are a great thing to serve for many different occasions. Your guests, spouse or family will surely find plenty to choose from that will please them with all the variety offered.
We love doing a simple charcuterie board for quick, easy meals as well as special occasions. I made a post for Valentine's that includes an ideal about using them for such times.
The key ingredient to make sure you add is love. Always make things that make you happy and they will usually turn out amazing.
I simply cannot wait till I make my next one, but I'm even more excited to hear how yours turn out!