Blue Blitzen Tipsy recipe #3 is here. That's right…be of good cheer another Southern delicious moment has appeared. Yep, that's right I'm bringing you 12 total, so make sure you catch up by trying, watching, pinning and printing one or two. Guess what, there's 9 more to go! Make sure you sign up for our newsletter and subscribe to our You Tube channel, so you won't miss one of them!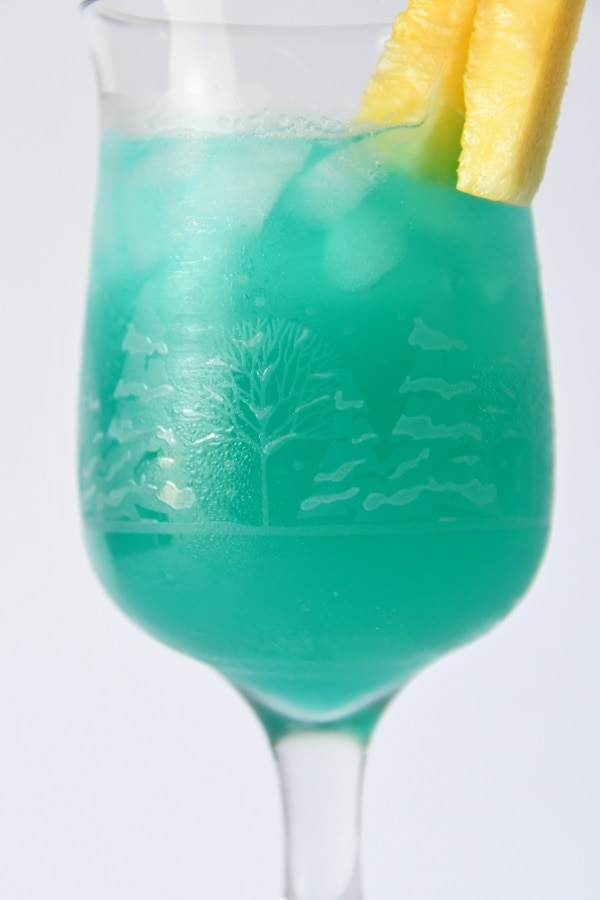 Why try Southern Blue Blitzen Recipe?
You should give this recipe a try if you like rum and fruit flavors. This is a mix of two delicious rums, a couple of fruit flavored liqueurs, pineapple juice and Polar Blast. We are making a perfect party punch. You can mix it by the glass for just one cocktail at a time or I am giving you details for a pitcher / punch bowl servings.
How Much Good Cheer Southern Blue Blitzen Will You Need?
This Southern Blue Blitzen tipsy recipe is so easy to adjust for just the right serving amounts. Are you just wanting a glass to set the mood before the party starts? If so, you will want recipe #1 below. Do you need a recipe that will serve a crew? Then you need recipe #2!
What's Perfect About This Southern Blue Blitzen?
It is so easy to mix in advance. People's schedule's are so busy now days. Doesn't matter whether it's the holiday's or summertime. Maybe you are just trying to get to the lake for a day to play. This recipe is so easy to make up on; let's say a Monday evening. It can definitely be stuck in the fridge for a few days. The taste will only improve with the flavors having time to marry.
What Makes Any Good Party Drink Even Better???
A great appetizer! I have a few friends that are sharing some tasty recipes that pair well with some of my party drinks. I hope you will try them and share with your friends!
Megan over at Strawberry Blondie Kitchen is giving us a tasty Taco Wreath.
Keisha from Big Pitt Stop is sharing a traditional 3 Ingredient Sausage Ball recipe.
Check these out. Both of these momma's can cook, so if you need an appetizer, I hope you give them a try!
I am going to make it easy for you if you happen to miss the previous recipes. Day 1 was a tart & tangy Southern Cranberry Crush. Day 2 could be served warm and tasty or over ice for a refreshing jolt of java – Southern White Chocolate Chata Cafe. What's better than coffee with a kick? This goes down so smooth that it will be hard to drink plain old coffee ever again. But, let's stop stalling, and get to this Tipsy Day Drink. I have the single serving recipe below, which is easy to double if your sharing. I am also going to do you one better and drop you another version… A Big Batch Bunch. In case you need a pitcher or punch bowl full to share with several (Spill proof pitcher if your headed somewhere with an ice chest – tailgate party, lake day. Nice punch bowl, if you are hosting in home.) Just a couple of suggestions to keep any event cheerful and light!
Southern Blue Blitzen
Fruity delicious punch drink.
Equipment
Cocktail glass

2 oz measuring cup

#2 – 64 oz pitcher

#2 – Punch Bowl
Ingredients
12

oz

Hawaiian Polar Blast

5

oz

Pineapple Juice

More will take it to the green side of teal.

1

oz

Blue Curacao

1

oz

Coconut Rum

1

oz

Rum

Light or Dark. The dark will make it lean to being greener.

1

oz

Patron Pineapple Liqueur

2-3

Chunks

Pineapple

Garnish or freeze and float.
#2 – Big Batch
3

quarts

Hawaiian Polar Blast

23

oz

Pineapple Juice

More or less will determine blue or green. This will slightly alter flavor. If you want more blue use more Blast, less juice.

3/4

c.

Blue Curacao

1/2

c.

Coconut Rum

1

c.

Rum

1/2

c.

Patron Pineapple Liqueur
Instructions
Add all ingredients together, stir and serve over crushed ice (if available). Makes a perfect blender drink. This can be severed in cute cocktail glasses with a fresh garnish of pineapple, or an insulated tumbler if you prefer for your hands not to be cold.
#2 – Big Batch
Mix all ingredients and serve as above. Red solo cups would work for party setting. Clear or holiday cups are suggested for special occasions.I would definitely freezer extra pineapple chunks, and Polar Blast ahead of time to float in punch bowl. You could even consider freezing in a large Jell-O mold bowl with pineapple in it for floating, too.
Try to NOT Have Such a "Blue Christmas," Just Have a Blue Blitzen one!
I hope you have a blessed and amazing time enjoying this delightful fruity cocktail! Happy Rhapsodyville, y'all!
XOXO
Trina