You might ask just who went to Megaphone Summit #19 and learned a LOT? ME!!! (And the SCB, Wayne). Can I just say that I am so thankful that I found this group of amazing bloggers, leaders, and business partners? #megaphone19 did not disappoint. I am still a baby to the blogging world(1st post ever) and I still sink more than I swim, but I keep jumping in the deep end. The tight little tribe that I found via the Megaphone community is always there to throw me a life preserver and haul me in.
Mastermind & Monday Gals Glory
#M&Mgals are truly the tribe that saved me from floundering, flopping and most likely stopping the blogging gig altogether. This group was handpicked by none other than Stephanie Buckley – TheParkWife, and founder of the Arkansas Women's Blogger Association, in turn, which became Soapbox Influence. I was originally in another group, which dissipated. Looking for a lifeline, I reached out to see if there might be another option. She quickly emailed me with the name and numbers of another group who was doing video chats on Mondays. I fell right in with this wonderful group of empowering, brilliant women. Lyndi Fultz – thejoyofeatingwell, Kallee Twiner – creativesouthernhome, and last but definitely not least Megan Marlowe – strawberryblondiekitchen. These girls are gold & I am blessed!
Megaphone Community
This is a group of mostly women. They are who make up this community of women bloggers, influencer's, and vloggers. Once a year Soapbox Influence brings together the community, the partners that make our businesses great, along with talent in the field or companies that grow the industry. During this 3 day, Megaphone event we learn, eat, mingle, meet, eat, share, grow, build, eat, don't sleep (much), dream, set goals, eat, encourage, lift, enhance, and make new like-minded friends. Oh, did I mention they feed us well, and often!
Soapbox Influence
Hat's off to Soapbox for the phenomenal job that they did. Something as large scale as this is no easy task. They made it look effortless, all while projecting beauty and grace. While in heels for the most part!
Megaphone Summit #19 Location
Let's take a second and talk about the location of where this was held: Bentonville, AR. This is one the fastest growing population in NWA. We love it. The layout for this convention was perfect. We walked across the town square to get to The Record for most meetings. Breakfast and a few sessions were in the beautiful Art Museum Hotel – 21c, which was amazing. Brightwater Culinary Institute did not disappoint if you attended Foodie Friday. Crystal Bridges was a fantastic kickoff spot for a meet and greet cocktails. I never felt rushed, but an easy flow to all that we did.
Brand Sponsors for Megaphone Summit #19
For anyone who isn't familiar with their claim to fame Bentonville, AR is the home of Walmart. It was nice to see them support at local like Soapbox! Who knew Walmart had their very own wine brands (that are great by the way)? All under $12.00. Kimberly-Clark made the Megaphone Summit #19 rock with all the presenters. I know
that there were several smaller brands, that played a roll in this, too. SO, I want to say thank you to every single one! We had Nick Jr. provide Butterbean's Cafe Breakfast and pizza lunch compliments TMNT. They brought lots of goodies for everybody, too. Anheuser-Bush did a great job sponsoring the Hospitality Suite with drinks and snacks nightly. I know I am missing a ton, but all I can say is you should mark your calender's for next year and get tickets when they go on sale.
Learning at Megaphone #19
Foodie Friday is where the summit kicked off. There were limited tickets to this. It's a must from now on. Summit classes were on Saturday and Sunday. We had teaching and training from industry greats in the blogging world, companies that create that world, and brands that help pay for both of those worlds. When they all collide we see a new future for consumers and entrepreneurs, alike. Social media and www are changing everything.
Foodie Friday Fun
Foodie Friday was awesome, that's all!!! When we arrived at Brightwater we couldn't have imagined we would receive lessons from top chefs on how to make macaroons and homemade mozzarella cheese. This was not the day to diet, nor go vegan. HashtagJeff made quite the impact on SEO. While Aprons & Stilettos, Saidah Washington gave valuable info for just the right pics to make your food photo's pop. Eating…lots of eating… This day was a stand-alone experience and SO worth being there.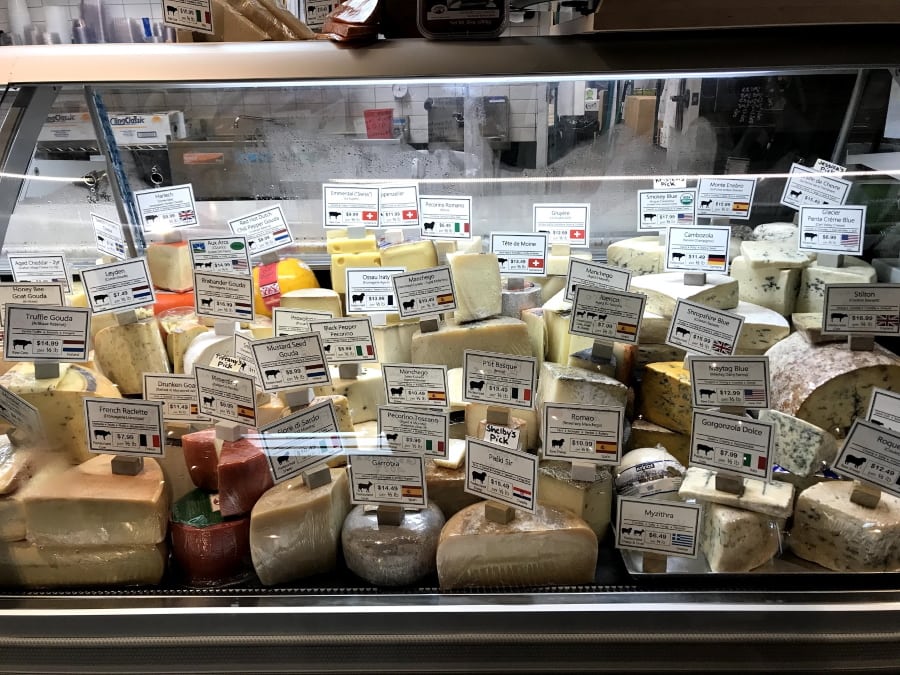 A little friendly competition
We had a contest to see who learned the most about putting together a Charcuterie Board. We placed 3rd in the judging contest, but we won in the social media shares part, so Jessica Keahey from Sweet Freedom Cheese & James King of King James Wine School took care of us for Saturday night by providing wine and cheese for the win!!!
All of the businesses that provided us with "tastes" for the day were fantastic! The meatless burger from the Holler was a stand out for me. The cheese display & tasting was fab. BUT the chocolate, oh the chocolate…it was divine!!! If you are ever in Bentonville, it's well worth your time.
Brightwater a Center for the Study of Food
Brightwater is a culinary institute that is quite impressive. Chef Aria Kagan was a treat to interact with. She did a fabulous job teaching us how to make mozzarella. Chef/Instructor Vince Pianalto did a terrific job teaching all the tips and tricks of making macarons. This day should never be missed!
Mozzarella Making:
Macaron Making:
Crystal Bridges
We were bused to Crystal Bridges for cocktail meet and greet for kick-starting the weekend. The art was amazing. The company was even better. We even had our very own specialty cocktail: Megaphone Mule.
Two Days of Targeted Training
We started at 9:15 am and wrapped at 5:00 pm on Saturday, and Sunday at 9:15 am to 4:00 pm. There were choices throughout the day to pick between the different speakers unless we were in general sessions. The hardest part was wanting to be in two different ones at the exact same time. Thank goodness for friends, splitting up and all of us taking notes and sharing.
Speakers at #Megaphone19
The list of speakers at #Megaphone19 was, well…long. I am going to list a couple of them, but you'll have to do the homework to research and look them up. I promise it will be worth the work!
Taylor Bradford – BossGirlCreative, podcast
Jeff Hawley – Hashtag Jeff
Tim Schmoyer – YouTube Strategies
Melissa Megginson – Tailwinds
Matt Holman – Instagram
Niccole Mucci – The Creative SAHM
Quinn Tempest – Quinn Tempest
Thea Neal – Royal Caribbean
And at least 20 more… I promise you that you won't lack for great information. The SCB even learned a few things and enjoyed it a lot! The processing and implementing it will be the real issue.
#Megaphone20 Summit is the Deal
Get signed up for Soapbox, and stay in the loop. Keep an eye open for the information on Megaphone Summit 2020. You don't want to miss it!
I know you would love it! ~ Trina