Hello and welcome to Redneck Rhapsody. I'm Jenn Summers, a blogging friend of Trina's and honored to be able to help out for the next few busy weeks here on her blog. Today I want to show you Trina's Fall Decor Centerpiece- A simple, bold tiered tray! I love the simplicity of this project and how much of an impact it makes to your tablescape or even an entryway table.
Tiered Tray Fall Decor Supplies
tiered tray (Trina used her Hallmark star two-tiered tray)
Most of the supplies Trina already had on hand from years before. This year she bought a pack of leaves and cute little mini bales of hay at Dollar Tree.
How to Arrange your Fall Decor Centerpiece
Choose a Proper Tray
Firstly Trina pulled out her beautiful Hallmark Star two-tiered tray that has an incredible rustic bronze oil finish on it. I absolutely love this tray, it is so gorgeous and versatile. It would even look great with Trina's 4th of July decor ideas filled with little red, white and blue candies!
You can use any tray that you have on hand but I would recommend ensuring your trays have a good amount of space between each tier as some of the gourds can be rather large and you don't want them to appear squished.
Don't forget you can always spray paint your tray if you're not in love with the colour. My favourite spray paint is rust-oleum painters touch. It has a primer added right in and has amazing coverage. Just remember nice thin first coat to prevent drips!
Arrange Pumpkins & Gourds
The next thing that Trina did was arrange all of the large and medium items in the tiered trays. This, of course, would be your mini gourds, pumpkins. Arrange different colours and shapes next to each other and try to avoid putting the like items right next to each other.
Add Smaller Fall Decor Items
Once you are satisfied with the pumpkins and gourds its time to add in even more fall to your decor piece. Grab your acorns, leaves and pinecones and work them into the arrangements to add pops of colour and textures.
I especially love the color of these leaves, they are beautiful fall shades and really stand out against the bronze trays. You can see that Trina worked the leaves underneath the larger items as well really making them pop!
A Simple Shoelace Ribbon Tops off the Fall Decor Centerpiece
Lastly, to finish off this fall decor centerpiece it needs a simple yet eye-catching shoelace bow made of ribbon.
Trina used three gorgeous fall shades, muted red, natural and umber. They have a slightly faded look to them and I believe are paper wired ribbon. Taking two strands of red and one each of natural and umber she looped them all at once into a large shoelace bow.
Display The fall Decor Centrepiece!
This fall decor centrepiece turned out absolutely amazing and makes me want to have one in every room in my home! As I mentioned before this would be stunning on an entryway table or perfect for a table setting!
This centrepiece absolutely looks amazing on Trina's Beautiful Thanksgiving Tablecloth a DIY Project that will be coming up soon! Make sure to check back often so you don't miss it!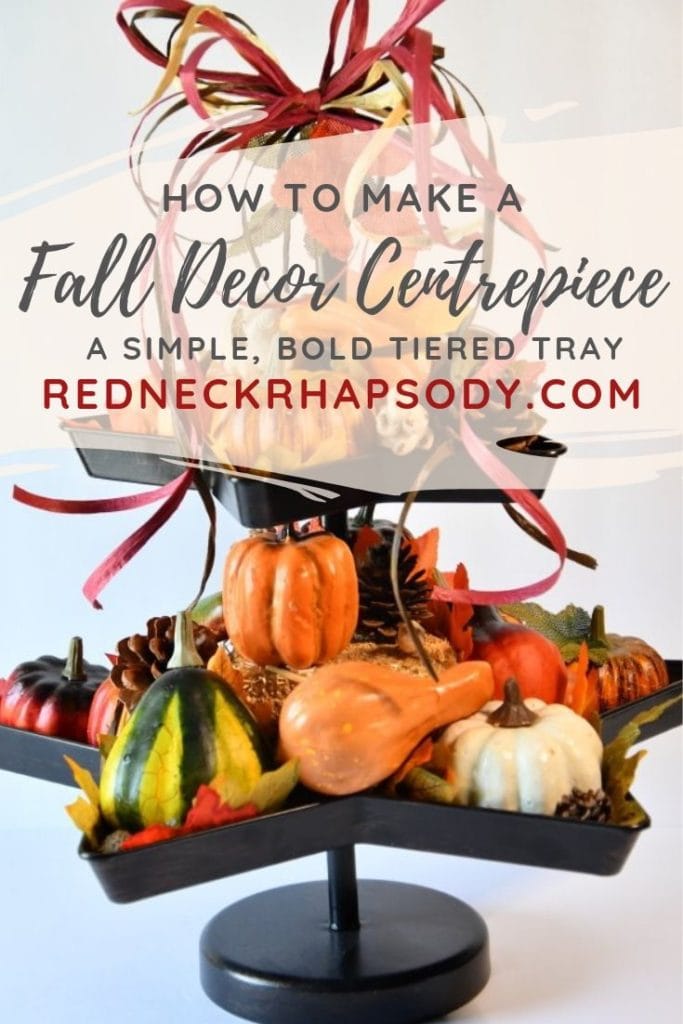 Looking for more Fall Decor Ideas?
I would love it if you head on over to The Old Summers Home (that's me!) and check out our fall decor ideas for using the top 5 fall quotes! You will find some amazing ideas from myself and a few other bloggers that will help you get your fall decor on a roll. Don't forget to grab your free fall quote files while you're there!
One of our mutual friends Ashley from The Irish Twins Momma has an amazing post on Fall Table Place Settings! She shows you the simplicity of making an elegant fall table arrangement as well as a really cute farmhouse style centrepiece. You're sure to love her Fall Table Decor!
Thank you so much for joining us today to present to you Trina's latest Fall Decor Tutorial! I hope you love it as much as I do. I have quite the urge to jump in the car and head for the nearest Dollar Tree now! Remember beautiful Fall Decor can be simple and quickly brought together all while making a bold impact.
Until Next Time;
Jenn Summers
Signing off for Redneck Rhapsody