What Amazing Things Should You Do in Haifa, Israel? Really several are typical for anywhere… Sleep, Eat, Tour, Eat & Repeat!!! Now, I will say it's how you chose to do those, whether anyone would want to visit Haifa – maybe even move here! Everything in Israel is just a little amazing to me. If you have followed me for any amount of time that I am a fan of this land. There is so much to do and see: We even saw a submarine!
This blended post is being written by Noah Welch & myself. We had a splendid adventure for four days in Boston, Massachusetts. The next leg of our journey would be for another 26 days in Israel. A full month with my man child. Memories that can never be taken away. This was my third trip to Israel, his second. Haifa, Israel would hold amazing wonders, just waiting for us to explore. Haifa would be a new area in the nation that we had not visited before. Yes, we did have a rental car, but you can take a train from the airport.
The First Thing You Should Have in Haifa, Israel is a Super Cool Place to Stay:
The AirBnB we stayed at in Haifa – Sultan Inn, was one of the coolest AirBnB's on the whole trip. It was such an amazing experience to be able to stay in an old villa that was actually constructed for a sultan. It was like staying in a little piece of history. Nurit, the property owner was so gracious to come by and share a few stories and some of its history with us. The Villa Sultana was built by the representative of the Turkish Sultan, Ali Efendi in 1780, as the first Villa in the area. 
We discovered that Nurit is a teacher and an artist. The decor inside the Villa was also very impressive and beautiful from an artistic standpoint. Her taste is VERY eclectic. From the wooden doors to the iron gates propped up along the interior walls to the hand made and decorated lamp shades turned chandeliers. The eye was kept busy taking in all the different colors, elements and patterns.
The location of our stay was also quite amazing given the fact that there were many places to eat around us. The Villa was only a two-minute walk to the beach, if that's your thing. Going to the beach is also really cool at this place because it is located next to a naval base which you can sit and watch the ships go into the Mediterranean. Never have I been where when you lounge on the sand you see a sub just show up.
It may get mentioned in some of my other posts, but just in case it does not, I want to make sure that you know that sunsets with the view of the Mediterranean in Israel are phenomenal. I would put it up against any sunset in the world for the breathtaking beauty that melts into the sea. One of my very favorite places in the world to be!
The Food: Another of the Amazing Things You Should Do in Haifa, Israel – EAT
Eating is a favorite thing of our family anyway, so when you land in a place with delicious food that tends to use all fresh ingredients, you are in heaven! We did go to the local grocery when we got up and around on our second day there. We knew that with being in Israel for the next 25 days that it would be good to have a few basics.
Water, you will drink lots of water. Saving a couple of bottles to fill half up & freeze is perfect for the cooler when you go exploring like we had planned in the days to come. I have more details about how to travel well in Israel in a few of my solo posts. My packing and preparing for international travel is very helpful. Most all the AirBnB's that I have stayed at, in Israel have all been excellent and gracious when having breakfast items on hand. Snacks are good to have, also. We picked up a few things that would not ruin when left in the car because of the heat. We packed some, too.
Places to Eat Out in Haifa, Israel
It was in Haifa that we went to a fantastic Italian restaurant, the Italiano del Costa – איטליאנו דלה קוסטה. This restaurant had a great selection of unique dishes that you don't normally see at your regular American Italian restaurants. If I remember correctly, I believe that I had a ravioli dish with truffles.
There was another place we stopped in, The Millhouse Cafe. We picked up some superb sandwiches for lunch one day. The final place we actually ate at was a mainly grilled food restaurant. Abu Zeid, a Seafood and Meat restaurant, definitely did not disappoint. They had a fantastic grilled meat platter that was absolutely delicious.
Out on the Town
Now the final place we went to, we didn't eat here, Fattoush Bar & Gallery. It was a really cool bar in the old industrial downtown part of Haifa. The owner is clearly someone who loves old pop culture. All the decorations had a really cool vibe to them. You feel like you've stepped back in time. The reason I am mentioning this place: One, is because it's just a real dope place to hang out. Second, it was also the place where I ordered my first alcoholic beverage (legal drinking age is 18 in Israel). Third, this whole revitalization of this area of Haifa should not be missed. The murals on the old buildings are worth it, totally.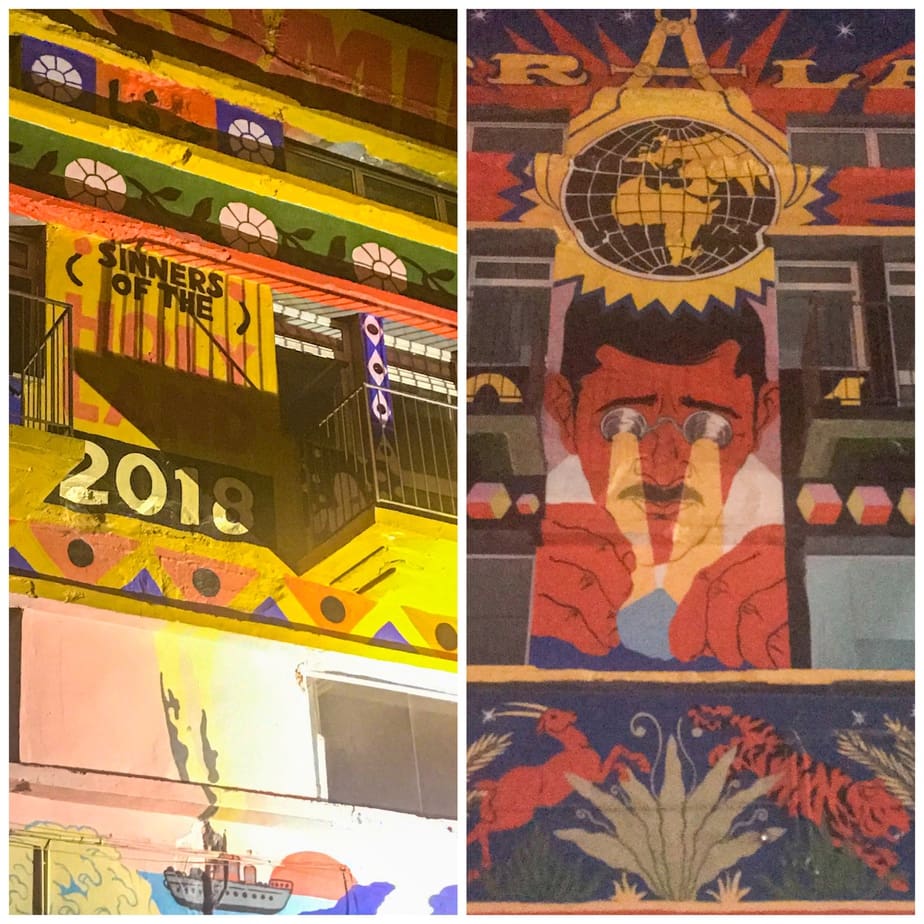 Let's Talk About a Few of the Sites around Haifa, Israel:
We honestly didn't go to a lot of specific places during our time in Haifa. There were only a few main sites we actually went to. One which was a nearby town where we visited as we transitioned over to our stay in the Northern Galilee at Chorazim.
Baha'i Gardens
The first site that we went to was the Baha'i Garden. Sadly, it just so happened to be one of the weeks the inner gardens and temples were shut down for maintenance while we were there, so we didn't actually get to go inside. However, we were able to get some great pictures and it was a stunning view of the city. While we were in that area we also took in the German Colony.
Ein Hod – Artist Village
We then took a short drive in the countryside to visit an artist village. The village of Ein Hod. Unfortunately, we were on the later side of the day and it was Shabbat. So, other than wandering around and taking a few pictures of the intriguing sculptures, everything was closed. Not to be disappointed though, it was worth the drive to see the sculptures. Being able to meander the empty streets sometimes gives you a feel for the ancient roots and all the things that this country has seen.
Akko (Acre), Israel
Our last site to take in as we left the coast of Israel for a few days was the ancient city of Akko, Israel, which was full of amazing history. Trains run between Haifa and Akko regularly, if you don't have a car. The city of Akko (or Acre) is a port city that is completely surrounded by massive walls of a fallen Knights Templar Fortress. The city was taken control of by Muslim armies in later years. The walls were accessible to venture around. Which are amazing to walk around and still see the cannons and mortars from when the Ottomans owned the city (they might not be the actual ones, but they get the point across).
There is also an old crusader citadel (fortress) in the city that has a lot of history and information about the city. The citadel itself is also massive in the fact that it will take a few hours for you to make it through the whole place.
One interesting fact is there are almost as many underground chambers and tunnels that the crusaders used that haven't even begun to be explored. They cover a large area that is almost the size of the city that is above ground. There are also many other sites you can go to if you don't want to go just to the citadel.
There Are So Many Amazing Things That You Should Do in Haifa, Israel!
The things that are listed above are just the tip of the iceberg of what you should or could do while you are in Haifa, Israel. We had a terrific time and can't wait to go back. I still stay in touch with Nurit. She's looking for hosting opportunities! If you haven't ever stayed at an AirBnB, grab a discount code here. I hope that you can find a few to try if you are ever there, and even more!
Should you be considering traveling internationally; here is a page with some really helpful links & tips. Check other countries visa policies that you will be visiting before you go. ALWAYS notify the US by enrolling in the Smart Traveler Enrollment Program and it never hurts to know your US Embassy information, too.
Happy travels y'all!
XOXO ~ Trina
For More Insight on Israel: